Entry field
Created by Contensis product team, last modified by r.saunders on 24 Aug 2020
This important editor allows you to relate existing entries in other content types to the entry that is currently being authored.
You can make single or multiple selections of entries and set the order using the up and down arrows. If you have the permissions to do so, you can also create and update entries inline from the entries displayed in the list.
Appearance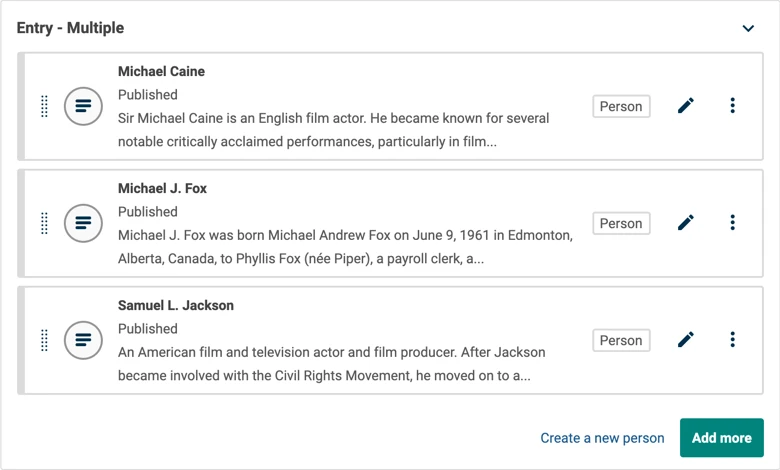 Settings
| Setting name | Summary |
| --- | --- |
| Name | A text label to identify the field in an entry. |
| Field ID | A sanitised name to be used by the API. |
| Multiple selection | Allows an author to select multiple entries. |
| Read only | Prevents authors from editing the field in the entry editor. |
Supported validation
This field editor supports the following validation methods:
Properties
Common properties
| Property name | Summary |
| --- | --- |
| Placeholder text | The placeholder property provides a short hint describing the expected value of a field. |
| Content guidelines | Provides guidance to an author for the expected content the field should contain. |
Content type
The content type property allows you to set a single content type or a group of content types from which authors can select entries. Use the search box to add content types to the list.