How police forces are saving time and money with Contensis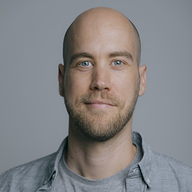 Ryan Bromley
Product owner and content strategist
Police forces, like other public sector organisations, are facing mounting pressure to do more with less. Growing demand for services and shrinking budgets have left many forces looking for ways to serve more people without increasing staff numbers.
One way to do this is to direct people away from expensive contact channels such as call-centres and onto your website. While this sounds simple, it's not always a case of "build it and they will come" – it's more a case of "build it well and they will come." People do prefer to help themselves, but only when you make it easy for them.
Sharing resources
We recently helped Bedfordshire, Cambridgeshire, and Hertfordshire Constabularies (BCH) to deliver three new user-friendly websites using Contensis.
The three constabularies had recently decided to form a partnership to collaborate on many aspects of their work. This partnership was designed to protect front-line services by increasing efficiency and reducing costs. By working together the forces aim to improve the quality of service they offer the public, their stakeholders, and partner agencies.
As part of this process the forces recognised that they needed to transform their websites into a 'first port of call' that would meet their customers' growing demand for real-time information and services. In keeping with their collaborative approach they decided to run their websites on the same systems and technology to make it easier to share resources, save time, and reduce costs. We worked with BCH throughout the project – from discovery and design through to implementation.
Making information easier to find
The first thing to do was identify the needs of the forces' customers. We began by running discovery workshops with key stakeholders at BCH. We worked with them to develop personas, identify visitors' top tasks, and create user stories that informed the information architecture and navigation of all three websites.
Unfortunately, the old BCH websites weren't mobile-friendly – a real barrier to self-service. With more people preferring to use their mobile devices to get online, it's vital that any modern website performs properly on tablets and smartphones. So, as well as designing the new sites to work on any device, we also optimised the user experience for mobile users by providing a simple navigation system that reflects the tasks visitors' perform most often.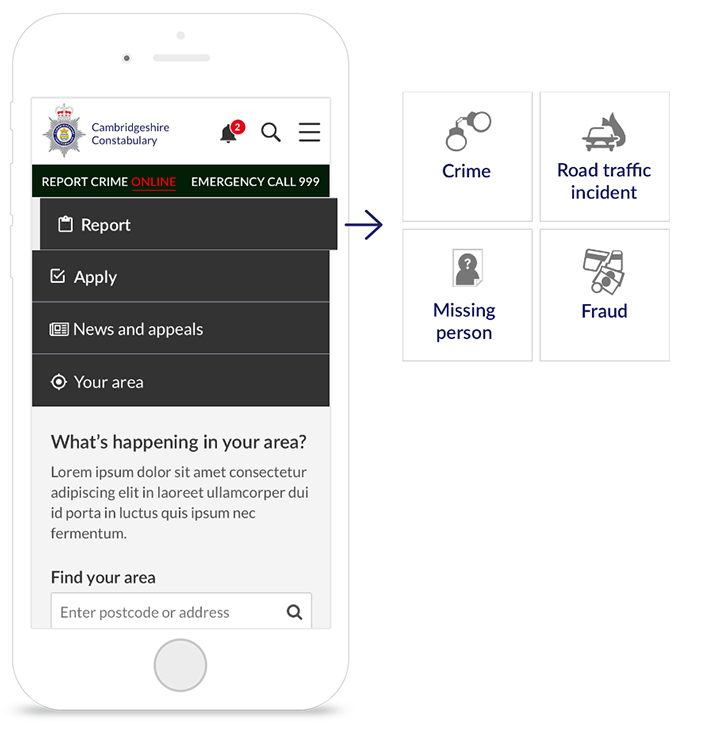 Making sure your content is easy to read and understand is a vital part of any successful channel-shift project. We ran workshops in content strategy and writing for the web with staff from all three forces in the early stages of the project. This gave the team at BCH the skills they needed to get the content ready for the new sites before they were due to go live.
Make information easier to provide
We made use of content types and entries in Contensis to make it easy for content authors to update the site. Content types let content strategists and developers break down frequently used kinds of content – such as wanted and missing persons – into their constituent pieces. Content authors then create entries, such as a missing individual, from these content types using a form-like editor.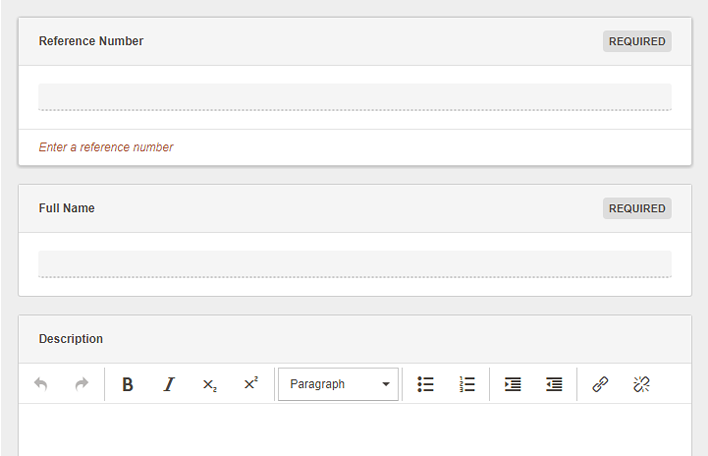 To provide residents with information specific to their neighbourhood, the new websites feature a postcode search that returns crime statistics, advice on preventing crime, and details of the local policing team from the PoliceUK database.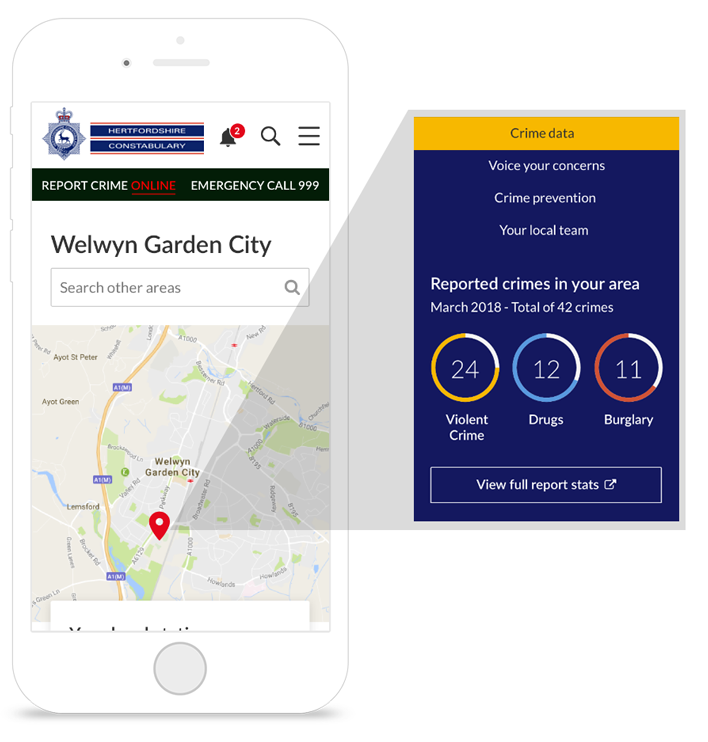 Each neighbourhood is stored as a content type in Contensis – providing the team at BCH with an easy way to add or change information on each area. Authors can quickly change the location of the local police station, which force covers the area, and add the Twitter or Facebook profile of the local policing team.
Building a platform to deliver great content
A good forms builder is an essential tool for any team trying to handle customer requests online. We used a customised version of the Contensis Forms module to allow the team at BCH to quickly create forms that show users their progress, allow them to pick their location from a map, and automatically add an internal reference number to each response. All three forces are using these forms to provide visitors with a way of reporting non-emergency crimes – giving the public the option of using an online channel and easing the pressure on call-centres.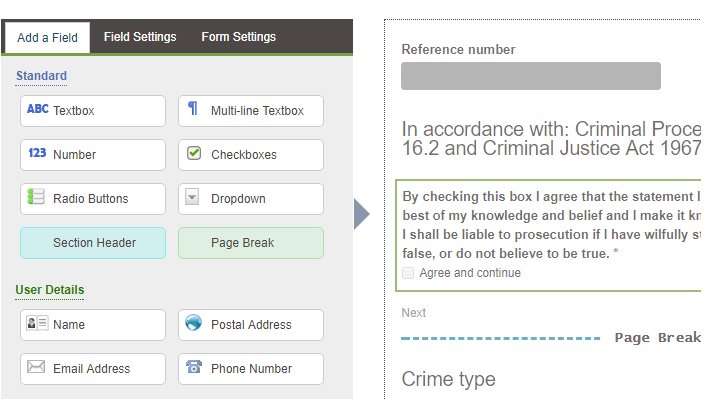 BCH chose to run the three websites on one version of Contensis. This makes it easier to manage the content that is shared across the three sites. The CMS is set up so that users can only see the folders that they are allowed to access. So, somebody who only has permission to work on one website won't be able to see the content for the other two sites in the CMS.
Each of the websites uses the same base design. They are built using a components system that allows users with no development experience to changes the look of the site. This gives the team in charge of each site the ability to make changes for any campaigns they are running without touching a line of code.
What was the outcome?
This is the first phase of a two-part project with BCH. Over the next few months we'll be working with the three forces to deliver a new intranet that will provide them with the communication tools they need to make their collaboration a success. We're also gathering feedback from visitors to the new sites to identify any areas that we can improve.
Visit the Bedfordshire, Cambridgeshire, or Hertfordshire websites to see the designs.